Survivors of Genocide Use
Scarves to Symbolize Perseverance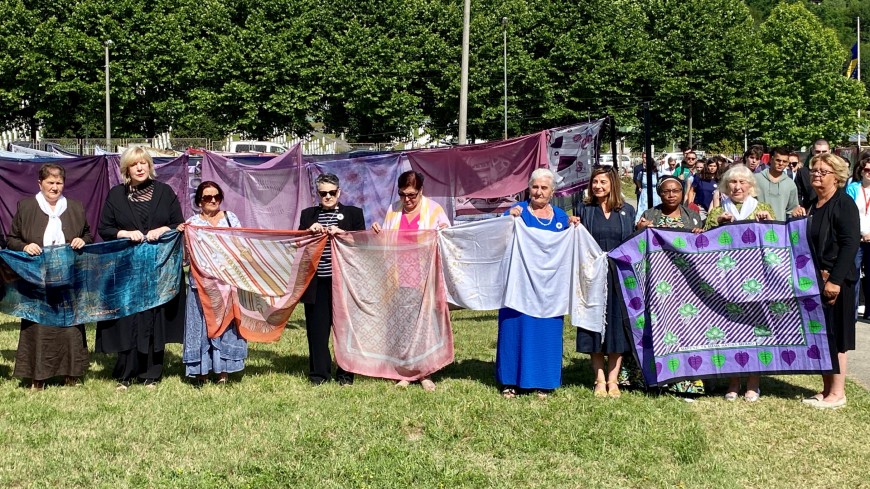 For The 'Mother's Scarf' art installation, survivors of the 1995 genocide in Bosnia and Herzegovina tied their scarves and shawls to counter the region's deeply rooted culture of genocide denial.
Key Points:
On the July of 1995 Bosnian Serb forces killed more than 8,000 men and boys in the span of 10 days. Every year on the 11th of July people from all over the world come to join a "Peace March" in Bosnia and Herzegovina to commemorate victims.
In the immediate post-war years, crowds of Bosnian Serbs regularly tried to intimidate women who survived and stop them from visiting the newly created graves; they were searching for items that once belonged to their loved ones.
But the women kept returning.

This year women of Srebrenica were recognised by the country for their tireless fight for justice.
As part of the Srebrenica Heroines initiative, an installation of mothers' headscarves and shawls was displayed at the Srebrenica Memorial Centre.

"These scarves and shawls are not mere pieces of fabric. They are a symbol of resistance that represents the relentless battle for truth and justice carried out by the Mothers of Srebrenica for the last 27 years" The Council of Europe Commissioner for Human Rights, Dunja Mijatović
The knots tying the scarves and shawls emphasise the solidarity between women in the face of extreme human rights violations.

Scarves and shawls used in the exhibition have been passed down from mothers and grandmothers and some were worn by survivors as they were fleeing for their life or as they laid their loved ones to rest.
The 'Mother's Scarf' installation is planned to be exhibited worldwide.
Read more Fashion news.