India's Crackdown on Headscarves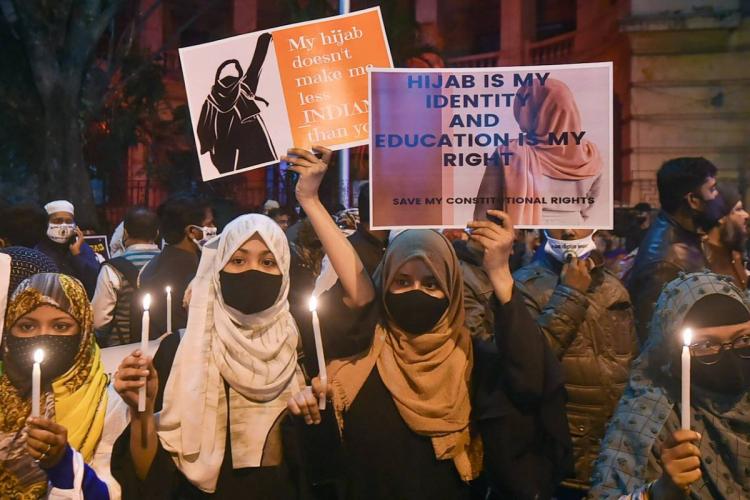 Since the beginning of 2022 Indian citizens have been protesting a verdict that denies education to women that wear headscarves.
Key Points:
In January this year, a government-run women's college in a city in India banned women from wearing headscarves in the classroom. Soon after similar policies were implemented across Southern India.
Following the ban citizens have been fervently protesting the ban; because banning education to Indians is an infringement on human rights.

On February 5th Indian court Karnataka advised students that the school dress-codes that ban headscarves do not violate their constitutional rights.
Hundreds of Indian citizens demonstrated the ban in Kolkata and Chennai, two of India's largest cities, and in Hyderabad.
Some students have shown disdain towards the protests by showing up on the protests wearing saffron shawls - the colour seen as a Hindu symbol.

In a video widely shared online, a female student that had a headscarf on was heckled at her college by a group of men wearing saffron scarves - they were chanting Hindu nationalist slogans at her and other protestors.
One of the students, Muskan Khan, stated for The Times of India that all the women in her family wear headscarves: "It is beyond a symbol of Islam for us; it is a vessel of our self-respect."

Nasreen Syed, 27, a teacher who has led protests against the ban in Bangalore told NBC News the following:
"They cannot force this upon us. We feel uncomfortable and disrespected."
Nobel Prize-winner Malala Yousafzai, who was 15 when she survived an attack by the Taliban in Pakistan for speaking up for the right of girls to be educated, called out the Indian government for denying education to girls on the basis of their clothing choice.

Ms Yousafsai said on Twitter: "Refusing to let girls go to school in their hijabs is horrifying. Objectification of women persists - for wearing less or more. Indian leaders must stop the marginalisation of Muslim women."
Bella Haddid, a 25-year-old Fashion model also criticized the Indian government for the blatant discrimination of women. In an instagram story she wrote: "It's not your job to tell women whether or not they can STUDY or PLAY SPORTS, ESPECIALLY when it is pertaining to their faith and safety."
A three-judge bench in the southern state of Karnataka stood by their ban on the headscarf in schools and colleges on the grounds that wearing it was not "essential" to Islam.
The verdict, however, has been challenged with an appeal against the ban that was filed hours after the high court order.
Read more Fashion news.